Enterprise Antennas
Here's the thing:
Attention to the total system performance is essential for in-building networks to achieve performance goals.
What does that mean for you?
Up to 2X the data speeds with Parsec antennas compared to paddle antennas on the router or gateway.  Faster speeds, robust connection, uptime and reliability for corporate campuses, public safety organizations, retail locations and IoT.
Are you ready?
2X data speeds than paddle antennas
Antennas for a variety of office environments
Varying options for installation
4G LTE, 5G NR, 600MHz – 6GHz, CBRS, PLTE, LTE LAA, WIFI, GPS
Akitas are compact wall mount or pole mount, external, omni-directional antennas optimized for attachment to a sheetrock wall.
5G
4X4 MIMO LTE
GNSS
GPS Optional
617 – 6000 MHz
Configurations: 5:1 and 4:1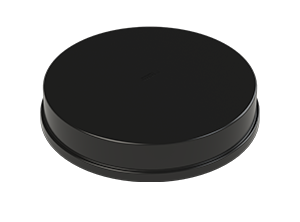 Husky
Husky antennas are ideal for transportation/fleet, remote video monitoring and fixed wireless.
5G
CAT 18
CBRS
Up to 4X4 MIMO LTE
Up to 8X8 MIMO WiFi
GNNS
Configurations: 11:1, 9:1, 7:1, 5:1 and 4:1
Bulldog
Bulldogs are ideal for retail wireless Internet access and failover to wireless Internet backup.
5G
CAT 18
CBRS
Up to 8X8 MIMO LTE
WiFi
GPS
Configurations: 12:1, 8:1 and 4:1
Collie
The Collie PRO Series antennas are perfect for FirstNet, first responders, critical communications, transportation/fleet, fixed wireless and mobile broadband.
Configurations: 5:1, 4:1, 3:1 and 2:1
Condor
The Condor was created as a directional antenna that swivels at a 40 degree rotation with a 75 degree beam-width providing maximum exposure.
CBRS
Directional
Rotating Swivel
Configurations: 2:1
Labrador
Labradors have double the data speed and half the latency of paddle antennas on the router.
5G
MIMO LTE
2X Faster Data Speeds
Failover LTE
Indoor/Outdoor Coverage
Configurations: 2:1
Weimaraner
The Weimaraner PRO Series antennas are unobtrusive, omni-directional antennas that are IP54 rated.
MIMO WiFi
Fast WiFi Speeds
Large WiFi Coverage Area
Configurations: 2:1
Great Dane
Great Dane antennas are easily pole-mount antennas and are IP54 rated. The unique omnidirectional design allows for a near 360 degrees of coverage.
MIMO LTE
Rooftop mounting
Failover for wireless Internet backup
Configurations: 2:1
Magnetic Mount MM Series
The MM PRO Series magnetic mount antennas are ideal for remote video monitoring, mobile broadband and digital signage applications.
Pointer
Parsec's Pointer is a high gain directional CBRS antenna with 4 elements to support 4X4 MIMO. The Pointer is optimized for fixed outdoor installations
on a pole.
Directional
4×4 MIMO PLTE
CBRS
Outdoor
Configurations: 4:1
Greyhound
Parsec's Greyhound is a rugged, directional mid-band antenna with 4 separate arrays of elements to support 4×4 MIMO. This antenna is perfect for private enterprise C-band routers.
Directional
4×4 MIMO PLTE
C-Band
CBRS
Outdoor
Configurations: 4:1
Chinook
Parsec's Chinook Series antenna is a best in class compact wall mount, or pole mount 4X4 MIMO LTE/C band antenna with optional GPS. This high performance omni-directional antenna works on bands 617 – 6000 MHz with high efficiency.
Omnidirectional
4×4 MIMO PLTE
C-Band
CBRS
Indoor/Outdoor
Configurations: 4:1
We provide solutions that add value to your business.